Study at Dongduk Women's University in Korea
60 Hwarang-ro 13-gil, Seongbuk-gu, Seoul, Korea TEL:82-2-940-4000 FAX:82-2-940- 4182
You can view a summary of all information about Dongduk Women's University below as well as contact information, you can always visit the website of Dongduk Women's University to view all programs and admission deadlines.
As a global partner of Dongduk Women's University and many other universities in Korea and other countries, IENT can help you achieve your dream by studying abroad in Korea by taking care of all details of studying here. Contact IENT for consultation regarding studying in Korea or Dongduk Women's University including your Visa application to Korea. IENT would take care of all procedures of your acceptance / conditional acceptance at Dongduk Women's University and your residence in Korea. 
Please contact IENT at info@ient.or.kr
欢迎来到IENT, 是最有权威的韩国留学的国际高等教育咨询专家。我们的目标是为您找到最合适您的韩国语课程到大学的高等教育。我们给大家分享同德女子大学的生活和学习视频内容。 
IENT是同德女子大学的官方教育代理。我们的总部位于韩国,分支机构位于越南和中国。
请联系我们
张猛(ZHANG MENG )| 电话:+86)183 6398 0686 | 邮箱:569359972@qq.com
吴帝宇(Jonahs OH )| 电话:+82) 10305348 | 邮箱:jonahs1026@gmail.com  WeChatID:yomiaow

KOREAN LANGUAGE INSTITUTE IN DONGDUK WOMEN'S UNIVERSITY
Dongduk Women's  University is fully dedicated to educating female professionals of intelligence and virtue, with the educational objectives of nurturing caring intellectuals, creative talents with sensitivity, fusion and convergence professionals, participating citizens, and citizen of the global world, based on doctrine, truth and harmonious  cooperation.
1 Introduction to regular courses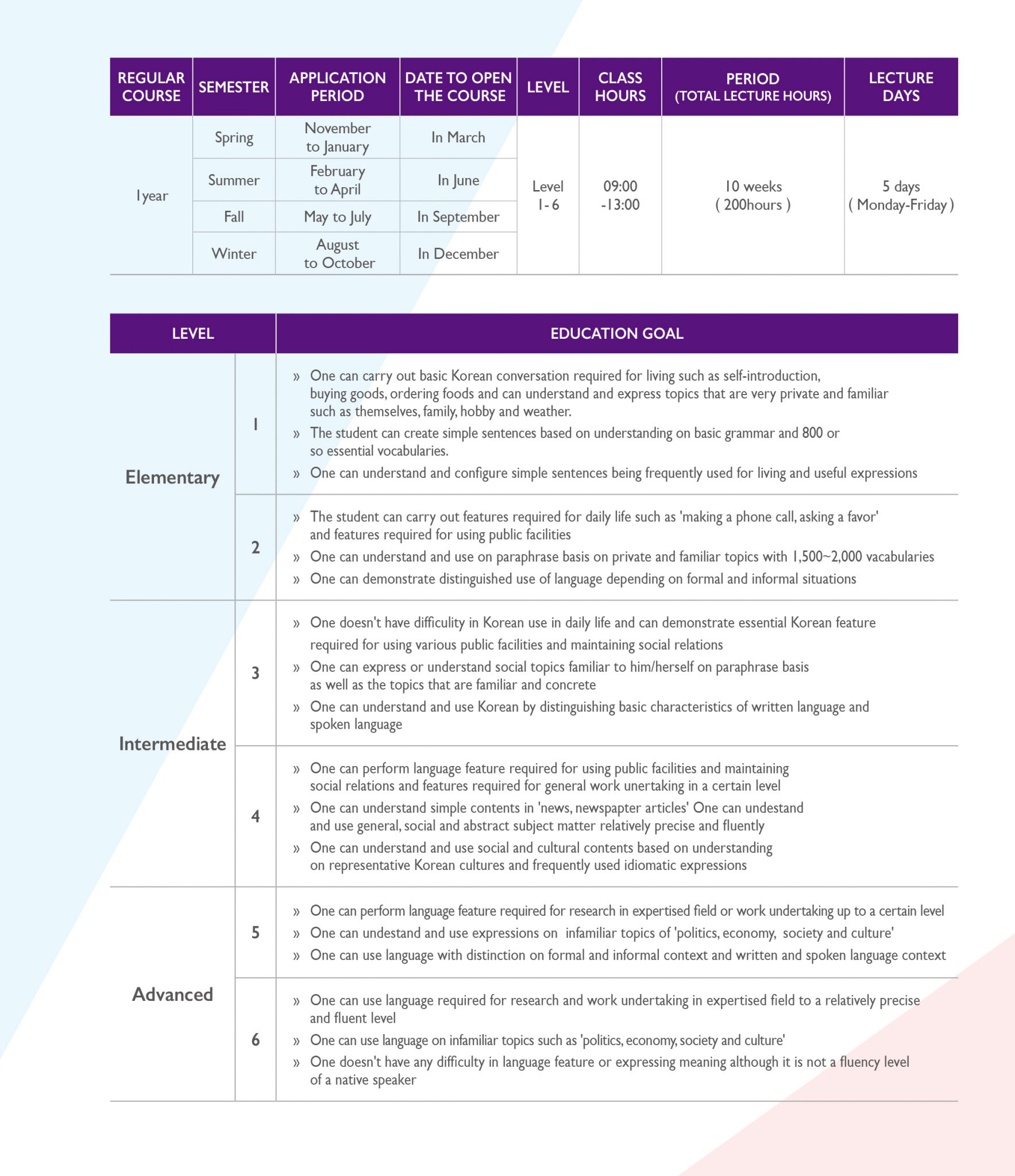 2 Guidance to enrollment
1.  Eligibility of admission
» Foreigner or overseas Koreans having academic background of graduation from high-school or higher
2. Requirement documents
Common documents :
1copy of Application form provided by this institute(with photo sized 5×4.5cm attached)
2copies of photo sized 5×4.5cm
1copy of passport
1copy of notarized certificate of the last school attended
1original copy of transcript of the last school attended
1original copy of certification of balance amounting to USD 10,000 or more (the balance must be maintained for 6months or longer since the date of application, and the certification must be the one issued in 1month as of the date of application) 1copy of certificate of sponsorship from a Korean citizen(when required)
China :
1 
original copy certifying graduation(diploma) from the last school attended (Graduation certificate of the last school can be replaced with verification of the consulate)
1original copy of certification of Employment/Income of the parents
1original copy of HUKOUBU form (family register)
1notarized copy of family relationship certificate in English
1copy of certificate of residency of both the applicant and the parents
3. Visa application
» A student receiving enrollment admission can apply for shortterm universal visa(C-3) and general training visa(D-4). » C-3 Visa provides valid period of up to 90days, and if you plan to continue studying, you must change it into D-4 visa. » If enrolling 2 semesters or more, it is possible to issue standard permission of admission
4.  Enrollment process
Document review > paper screening and interview evaluation > notifying acceptance > registration > issuing acceptance > Visa application > entry to Korea > placement test
5. Tuition
Application fee 
 60,000won
Tuition fee
   1,200,000won per semester(textbooks not included)
Cultural experience fee
    100,000won
Dormitories 
 7,600won /day(4beds room, deposit of 100.000won to be charged additionally)
6. Taking out insurance policy is a must
» All students must take out insurance policy. (However, those who take out policies in their country, they should submit the proof document)
7.  How to pay the fees
Bank   Hana Bank Account No.   166-910007-40204 Name  Korean Language Institute of Dongduk Women's University SWIFT CODE KOEXKRSE
3  Experiencing culture
▶ Special program of the Institute
Visiting design research center of Dongduk Women's University and Fashion Street in Cheongdamdong
Meeting with Korean Popsongs(K-Pop)・Visiting broadcasting stations
Visiting Performance Art Center of the University and Daehakro which is a boulevard of the youth
Understanding and appreciating Korean movies and dramas
Korean cooking class
Visiting National Institute of Korean Language
Traveling tourist destinations in Seoul such as Myungdong and Seoul N Tower
Guidance on admission to Korean universities・briefing on admission to Dongduk Women's University
4 Korean Language Institute of Dongduk Women's University
Homepage   
http://ient.or.kr
Telephone   +82-10-7149-8998 Email  info@ient.or.kr
APPLICATION GUIDELINE FOR NEW AND TRANSFER STUDENTS FROM FOREIGN FAMILY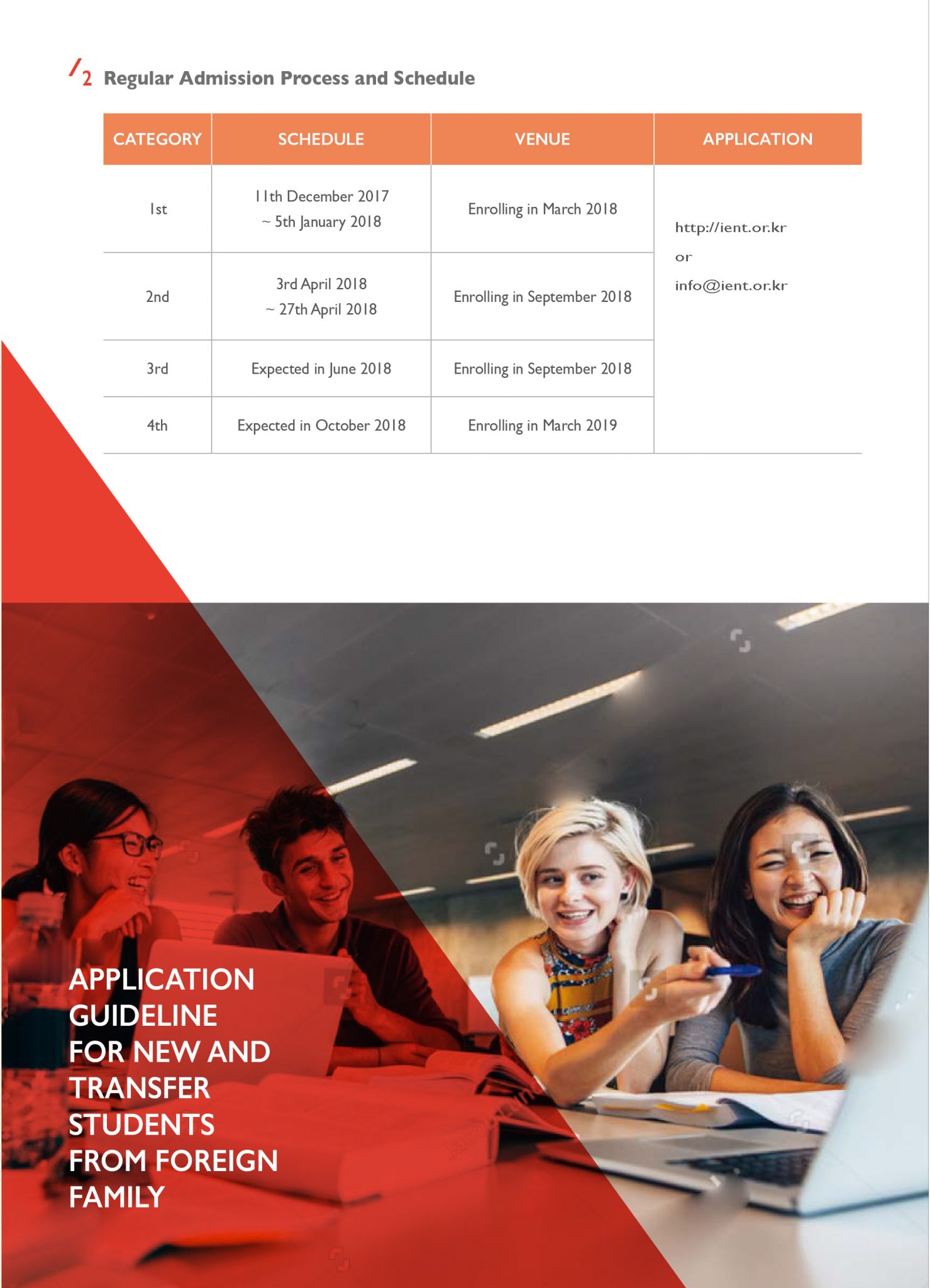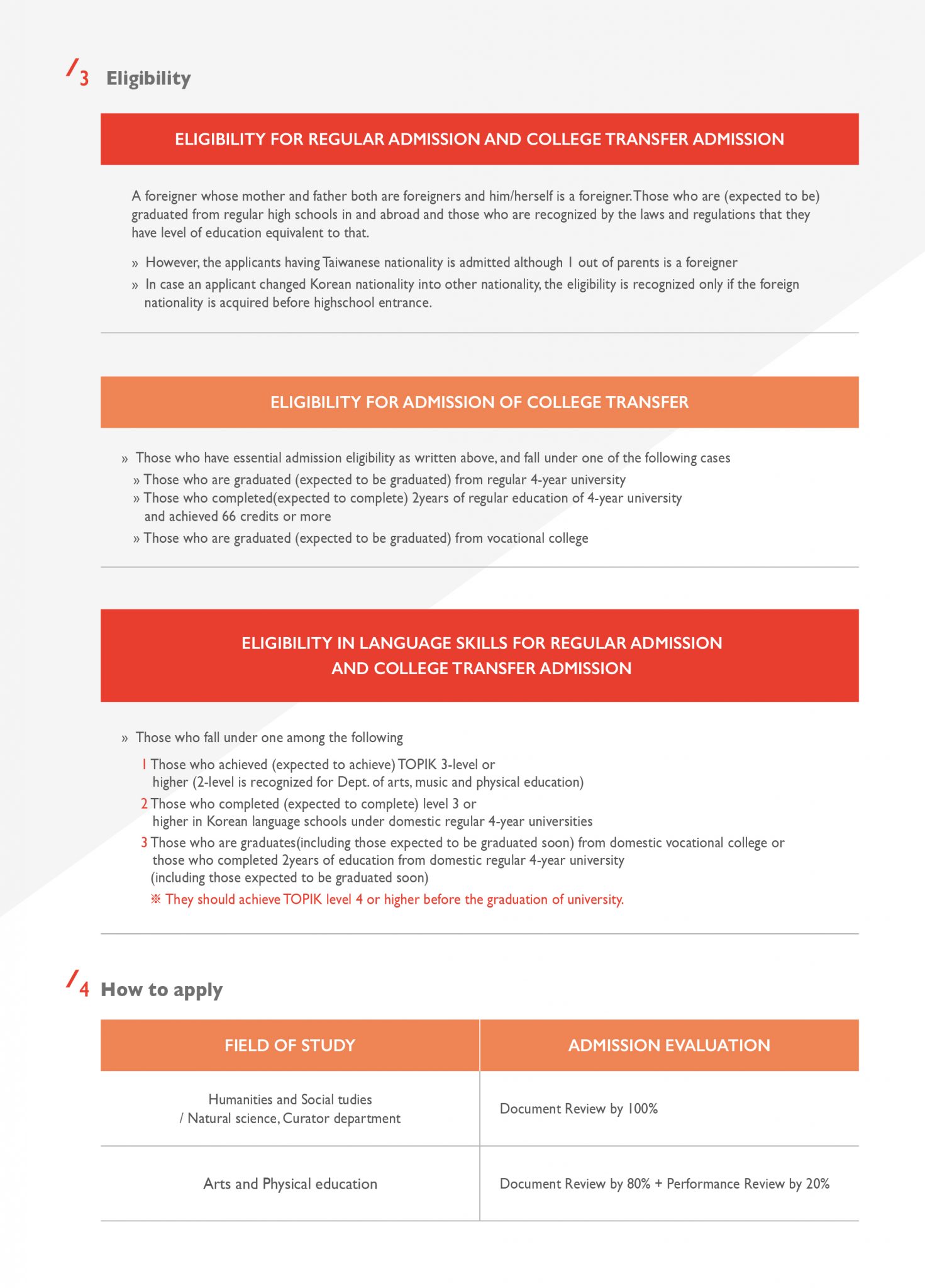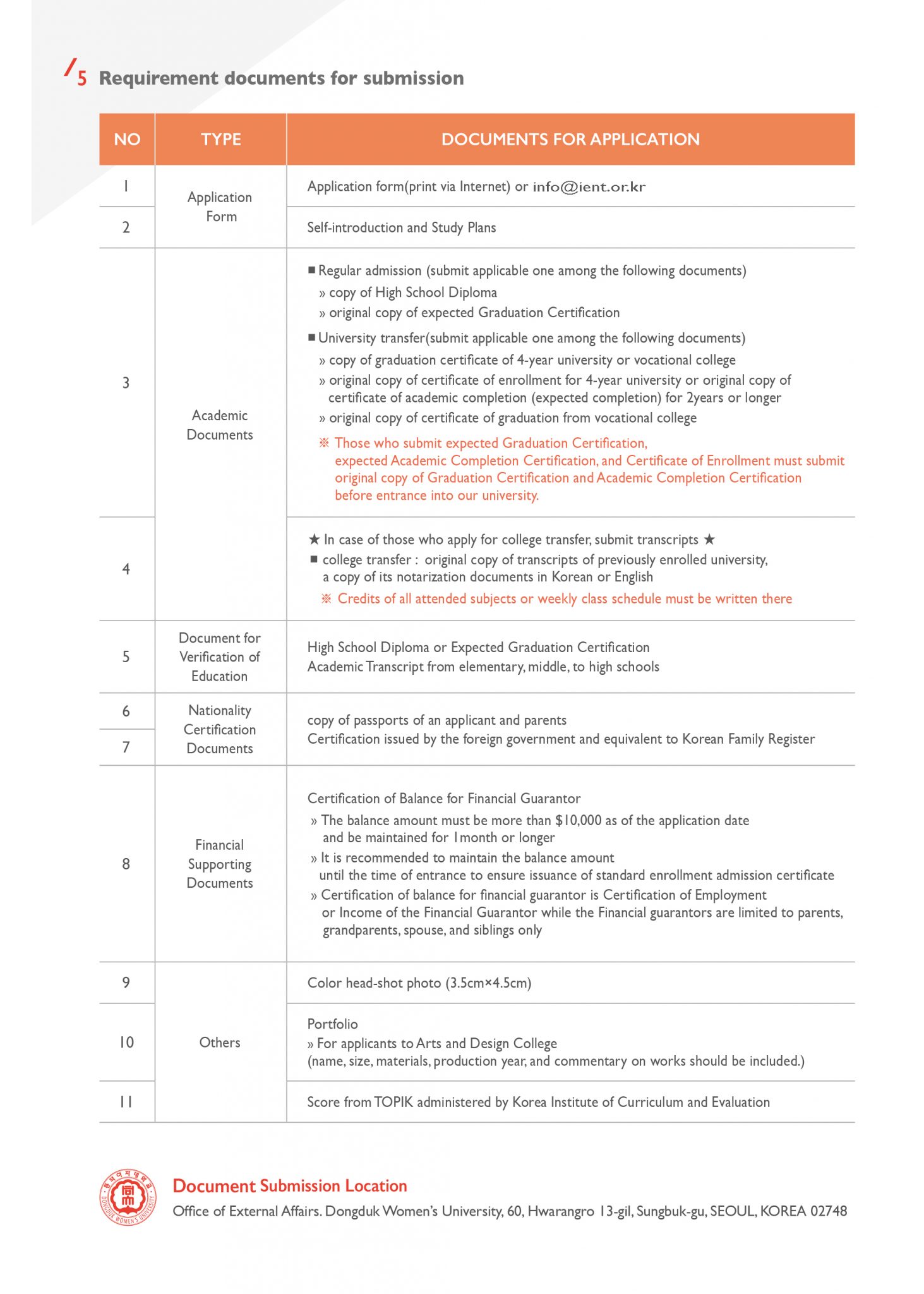 1 Giới thiệu quá trình chính quy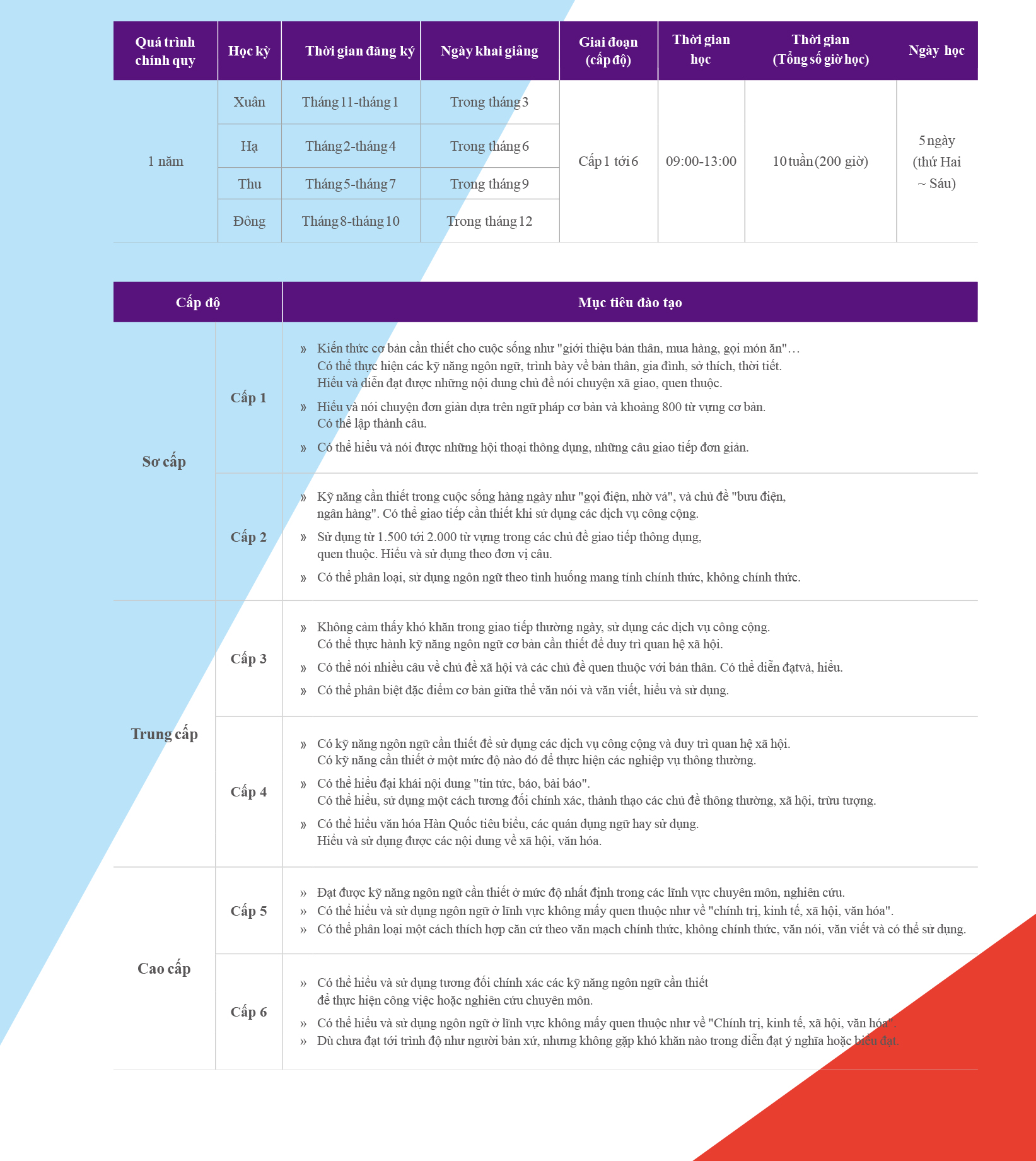 2 Hướng dẫn đăng ký
1. Điều kiện ứng tuyển
» Người nước ngoài hoặc Hàn kiều tốt nghiệp cấp ba trở lên
2. Hồ sơ cần thiết
Hồ sơ chung :
1 đơn ứng tuyển theo mẫu của viện (gắn ảnh 5×4.5cm)
2 ảnh 5×4.5cm
1 bản sao hộ chiếu
1 bản công chứng bằng tốt nghiệp cấp học cao nhất
1 bản gốc bảng điểm cấp học cao nhất
1 bảnchính xác nhận số dư ngân hàng từ 000 USD trở lên
(Tài khoản phải duy trì từ 6 tháng trở lên kể từ  ngày đăng ký, giấy xác nhận số dư  phải được cấp trong vòng 1 tháng từ ngày đăng ký)
1 giấy bảo lãnh của người Hàn (có thể yêu cầu khi cần)
Trung Quốc :
1 bản chính chứng nhận tốt nghiệp (bằng, chứng chỉ) của cấp học cao nhất (chứng nhận tốt nghiệp cấp học cao nhất có thể thay bằng xác nhận lãnh sự)
1 bản chính xác nhận đang làm việc/thu nhập của cha mẹ
1 bản sao hộ khẩu cả gia đình
1 bản sao công chứng chứng minh quan trong gia đình
1 bản sao giấy cư trú của bản thân và cha mẹ
3. Đăng ký visa
» Học sinh nhận được giấy phép nhập học có thể đăng ký visa tổng hợp ngắn hạn(C-3), visa tập huấn thông thường(D-4) » Visa C-3 có thời gian hiệu lực tối đa là 90 ngày, nếu muốn học tiếp phải chuyển sang visa D-4 » Khi đăng ký từ 2 học kỳ trở lên, có thể cấp giấy phép nhập học tiêu chuẩn
4. Quy trình đăng ký
Thẩm định hồ sơ > thẩm định hồ sơ & phỏng vấn > thông báo đỗ nhập học > đăng ký > gửi giấy gọi nhập học > đăng ký visa > nhập cảnh > kiểm tra chia lớp
5. Phí đăng ký
Phí ứng tuyển   60.000won Học phí   1.200.000won 1 kỳ (không bao gồm giáo trình) Phí trải nghiệm văn hóa   100.000won Phí ký túc xá   7.600won/1 ngày(tiêu chuẩn phòng 4 người, tiền đặt cọc riêng là 100.000 won)
6. Bắt buộc tham gia bảo hiểm
» Tất cả học sinh phải tham gia bảo hiểm (Học sinh nào đã tham gia bảo hiểm tại nước mình phải nộp hồ sơ chứng minh)
7. Cách nộp học phí
Tên ngân hàng   Ngân hàng Hana                                                                       Số tài khoản  166-910007-40204 Tên tài khoản   Viện đào tạo tiếng Hàn Đại học nữ sinh Dongduk SWIFT CODE  KOEXKRSE
3 Trải nghiệm văn hóa
▶ Chương trình đặc biệt chỉ có ở viện chúng tôi
Thăm quan Trung tâm nghiên cứu thiết kế của trường, trải nghiệm con đường thời trang phường Cheongdam
Gặp gỡ âm nhạc đại chúng Hàn Quốc (K-Pop), thăm quan đài truyền hình
Thăm quan Trung tâm biểu diễn nghệ thuật của trường và trải nghiệm đường Daehak của giới trẻ
Hiểu và cảm nhận điện ảnh, truyền hình Hàn Quốc
Lớp học nấu ăn Hàn Quốc
Thăm Viện Ngôn ngữ quốc gia Hàn Quốc
Thăm các điểm du lịch ở Seoul như Myeongdong, tháp N Seoul
Hướng dẫn học lên tiếp đại học tại Hàn Quốc, giới thiệu về nhập học tại Đại học nữ sinh Dongduk
4  Viện đào tạo tiếng Hàn Đại học nữ sinh Dongduk
Trang chủ   
http://ient.or.kr
Điện thoại  +82-10-7149-8998 Email    
info@ient.or.kr
APPLICATION GUIDELINE FOR NEW AND TRANSFER STUDENTS FROM FOREIGN FAMILY